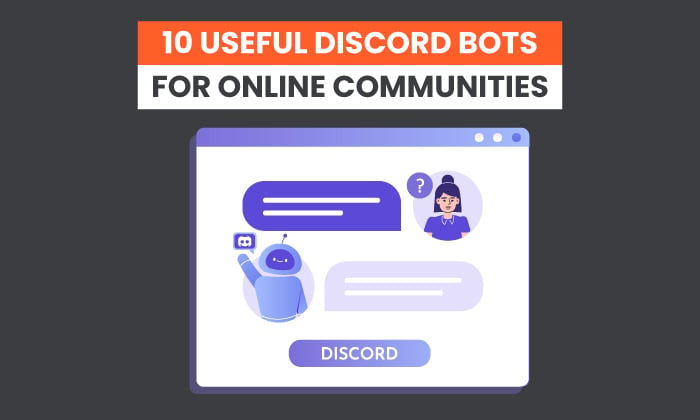 If you use Discord, you've probably heard of Discord bots. You can use these AI-powered bots to perform a wide variety of actions, from welcoming new members to paraphrasing influencer content.
Discord has grown dramatically since it hit the scene in 2015, and while it has mostly been about gamers, digital marketers are finding ways to make it work for them.
If you're looking for a unique and fun way to connect with your community, Discord bots might be the way to go.
What are Discord Bots?
Discord bots are one of the most useful features of the communication platform. They are AIs that allow marketers and business owners to perform a wide variety of automated tasks on the server.
Building a community is never easy, but it's a great way to give people a sense of exclusivity when they do so with Discord. If you already have an audience, this strategy will benefit you.
In a safe and closed community environment, you can offer tips, record videos, host life, and teach people everything you know. When people feel like they are getting something they can't get anywhere else, they are more inclined to share it with others and pay more for the information in return.
Discord bots make it easy to create an engaging community. You can use them to welcome new members to the server, moderate communications between members, and block people who refuse to obey the rules.
You can use them to add memes, games, music, and other fun content to the server for your members to have more fun with.
Knowing which Discord bots to add is key. Some bots can improve your server and provide a better community so users will want to stick with you and get in touch with you. The wrong ones could turn people away or create a bad environment.
10 useful Discord bots to try out
The key to being successful in marketing on Discord is using the best bots to create a highly engaged and fun community. In this section, we take a look at the ten most useful Discord bots.
1. MEE6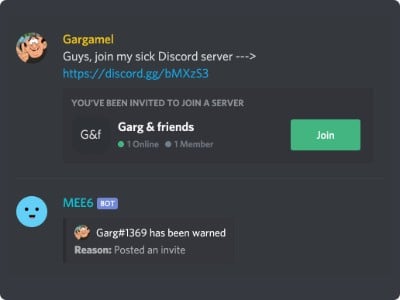 MEE6 is the most comprehensive Discord bot out there. You can create custom commands to automatically assign roles to users and send messages on the main channel or through DMs based on specific actions.
Setting up welcome messages and automating roles is also easy. With a few simple commands, you can greet new members on the server, assign them a role, and explain the rules of the server without having to do anything manually.
The best thing about this bot is the amount of customization you can apply to your Discord bot commands. You can auto-kick someone if they advertise ads, unwanted links, or spam. This can help create a close community that everyone can enjoy themselves.
2. ProBot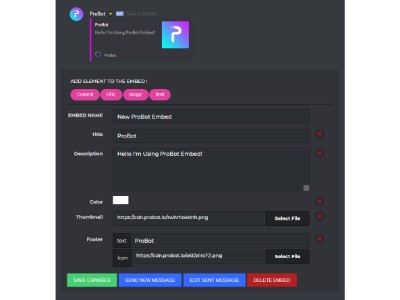 ProBot is a Discord bot that allows you to automatically set welcome messages. Every time someone joins the server, they will be greeted with a custom message to show off your personality.
With the Automod system, you can spot bad behavior instantly and warn the person not to do it again or automatically kick them out if necessary. For example, if someone posts something obscene, you probably don't want to give them a second chance. ProBot can kick them out and keep your group informed.
The bot allows you to set up unique commands at different levels to determine which actions deserve an instant kick and lead to a stern message.
An important factor to consider with the best bots is their availability. ProBot has 99.99% availability, so you (almost) never have to worry that the bot will fail and your server will stop working.
3. Thanks Memer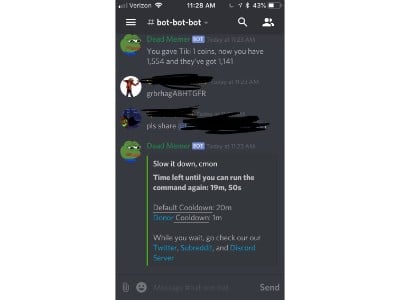 If your first thought is, "Why should memes be important in marketing?" You may be surprised that they are a very powerful marketing tool and one that you can use to build a better community.
Memes are a great way to increase engagement because people love humor and the whole point of Discord is to create a carefree community that is full of entertainment and fun. Memes are a simple yet effective way to do just that.
Thanks to Memer, Discord is a great bot because it lets you use so many commands. You have commands from simple animal pictures to actual games to play blackjack against the AI ​​with coins bought with real currency.
If your goal is to create a community where people love to come to relax, unwind, and have fun, Thanks Memer is a fantastic choice for Discord bots.
4. Voicy
Communication is important to a community. When you find new and fun ways to communicate with your members, your server will stand out from the competition. Remember, there are a ton of other people competing to get the same users onto their channel as you. You need to find unique ways to get noticed.
With Voicy, you can search a library of 50,000+ funny sound clips on your network. They keep updating the platform with new sound effects, and you and your members can use the commands to create a more enjoyable experience and a fun environment that people want to stay in.
5. Community Hubs Beta
The goal of the Discord-Bot community hub is to improve the way we communicate with each other across the many servers and different platforms. It connects a Discord channel to a hub room that has other channels in it, so you can exchange information between two rooms.
This could be a powerful way to bring two communities together when you have different audiences across multiple genres. Let's say you have one server that is mostly focused on SEO and another one that is dedicated to influencer marketing.
If you want to create a live stream for both audiences because the topic is relevant to both, you can use hubs to bring them together to watch the live stream together and benefit from the information. The Hubs-Bot also enables the two channels to communicate with each other.
Not only does this have immediate benefits upfront, it also has benefits in the back end. For example, someone can choose to join both communities.
6. Musibeth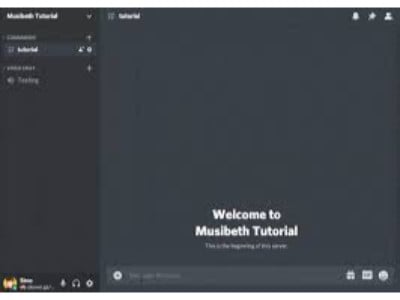 Musibeth allows you to play YouTube content directly on Discord. There are several advantages to this. First, you can share videos with members to provide context or additional information about something you want them to know.
You can also set up automatic commands that provide videos for frequently asked questions, so you can spend more time building the community and less time answering the same question over and over.
If you have your own YouTube channel, you can use the Musibeth Discord bot to spread your channel and get more views while letting members know what they want to know. However, be careful not to spam your channel with YouTube videos that users are not interested in.
The most obvious use for the bot is playing music, so you can do that too. Playing music on the server is a great way to relate with people and create a comfortable environment.
7. Quillbot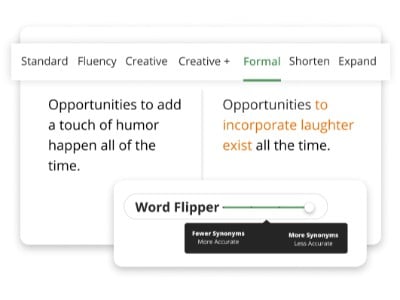 Quillbot is a unique Discord bot that allows you to rewrite something someone said. As you use the commands, automatically written text will be rewritten for you. I see a couple of useful purposes for this, but the biggest one involves content marketing and writing.
For example, suppose you are interviewing someone with expertise on a particular subject. They give you an answer using text from an article they wrote or a role they had somewhere. You cannot use these words directly. Quillbot will rewrite what they said so that you can use it in your article.
There are also more relaxed purposes for the bot to play around with if you're just using it for fun. For example, you can use the Word Flip Modifier, which changes the sentence using as many synonyms as possible.
8. Spixx
Spixx is a bot that lets you use commands on memes, music, and games. All in the name of creating a comfortable environment and a niche community where people feel welcome.
By using Discord bot games, you are indirectly marketing to your audience without even realizing it. If you create a community and engage with them, that is marketing. It's the easiest form of marketing and effortless when everyone is having fun.
Spixx will help you with this. However, it is important that you monitor how users use it as some of the memes and commands are a bit obscure.
9. GiveawayBot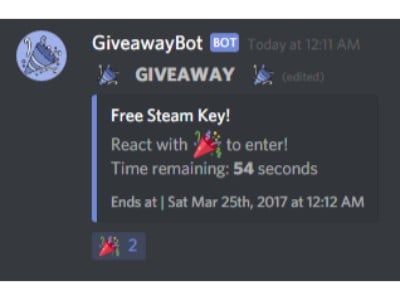 What better way to show your community that you love them than with freebies? GiveawayBot lets you host a giveaway using simple commands that allow you to start, select, and end a giveaway without manual labor.
Why is this important for digital marketing? Again, we're always trying to find new and exciting ways to connect with our followers, and giving things away is a great way to get attention.
If you run fun and entertaining competitions, you will organically grow your fan base as the users share the Discord server.
10. Other miscellaneous Discord bots
While this isn't a specific bot, you can search top.gg for additional bots that suit your marketing needs. But be careful in your search.
This is a list of bots made by almost everyone. So be sure to review them carefully before using them in your marketing.
How to add a bot
Once you've figured out which Discord bots to add to your channel, you'll want to find them using an online bot list (like the one mentioned in number 10) or a simple Google search.
From there, look for the "Invite" or "Add" button and choose which server you want to add the bot to. Remember, you can only do this for the servers that you have administrator or moderator access to.
Once the bot is uploaded to the server, you should be able to use it immediately with a series of commands. If you want to remove a bot, you can right-click it in the list of server members and click Kick or Ban.
Conclusion
Using Discord bots is a unique but powerful digital marketing strategy that we can all benefit from. As marketers, we need to stay on top of the trends and focus on emerging platforms.
Discord is growing rapidly in the gaming and technology community. So if you find yourself in these niches, you will likely get a lot of rewards from using Discord bots. There are a number of resources available to help you find, install, or implement these strategies.
Do you use Discord for digital marketing? If so, do you feel that this is having a positive impact on your business?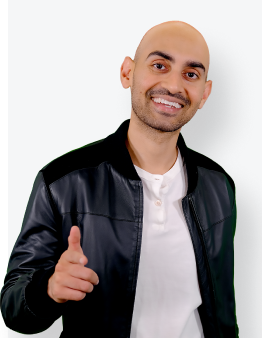 See How my agency can drive Firmly Traffic volumes on your website
SEO – Unlock tons of SEO traffic. See real results.
Content Marketing – Our team creates epic content that is shared, links accessed and visitors drawn.
Paid media – effective paid strategies with a clear ROI.
Book a call