Ad tracker
vacuum
Voluum is the leading affiliate ad tracking software with advanced analytics, full automation, and built-in optimization tools to help you scale and take advantage of your affiliate marketing campaigns.
Track, optimize and automate your advertising from a single platform at the lowest prices ever seen.
Get access to Automizer, Anti-Fraud Kit, Rules-Based Paths, AI Optimization, Redirected Tracking and more this week, and save money on all plans with Voluum's 3-in-1 Black Friday Special.
Deadline: 9th of December
RedTrack
RedTrack is an advanced ad tracking and conversion mapping tool with over 170 integrations that covers the needs of affiliates, publishers and advertising agencies.
Track data across all channels and advertising campaigns, get real-time reports and use the built-in tools for automatic optimization with user notifications.
Buy a subscription on RedTrack this Black Friday and get up to 40% off the original price.
Save up to $ 1,900 with 30% off 3 months, 35% off 6 months, and 40% off 12 month plans.
Deadline: 30th of November
Competitive Intelligence & SEO
AdPlexity
AdPlexity is a legendary suite of ad intelligence tools that give a complete picture of the digital world.
With AdPlexity tools in your pocket, you can easily identify successful strategies and trends, see which ads are performing the best, create more profitable campaigns, and more.
AdPlexity offers HUGE discounts of up to 50% on monthly and yearly subscriptions, as well as FREE INCREDIBLE bonuses for Black Friday!
Deadline: 30th of November
SEMrush
SEMrush is an all-in-one digital marketing tool that 6,000,000 users trust.
This year, SEMrush has a great Black Friday offer that offers a PRO subscription with 50% off an additional user.
Typically, you have to pay $ 170 for an additional user. However, during Black Friday, you'll pay $ 135!
Start date: 25. November
Deadline: 15th December
Forums
affLIFT
affLIFT is a premium affiliate community. Connect with other seasoned members, read case studies, sample campaigns, and guides, and learn everything you need to know to become a successful partner.
affLIFT is offering a significant discount for all new memberships as part of its Black Friday campaign.
Get a monthly subscription for just $ 14 / month (capped and then increased to $ 15 / month) or purchase the annual membership plan for just $ 149 / year. Or, if you prefer, a lifetime offer for a one-time payment of just $ 249.
Start date: November 24th
Deadline: December 1
STM forum

The STM Forum is the world's leading super affiliate community, used by thousands of affiliates worldwide.
Learn how to start your first campaign, meet experienced partners and increase your profits with the help of the community.
The STM forum typically costs $ 99 and gives new members 20% of the subscription for the first month as part of its Black Friday deal.
Use the promo code MOBIDEASTM2020 to access STM forums, including exclusive tools, services, mastermind groups and global meetups for the reduced price of just $ 80.
Deadline: December 31
Hosting & Domains
Bluehost
Bluehost is one of the largest web hosting providers, hosting millions of websites worldwide.
This week the leading web hosting service is offering up to 60% discount on hosting Services as they promote their lowest prices of the year.
Take action now to get access to shared hosting plans from ab just $ 2.65 / month 36 months of discounted online stores and managed WordPress beta so you have everything you need to get your ideas online.
Deadline: 30th of November
Traffic sources
Mobidea Push
Increase your ROI and get unparalleled ad visibility with Mobidea Push.
With this extension of the Mobidea suite you have access to over 25 exclusive push traffic providers, so you can enjoy higher conversion rates and a higher volume to manage your offer on the go.
Use the promo code bf20 With the Mobidea Black Friday offer, get 10% more on top-ups of $ 100 or more and experience the power of push traffic at a cheaper price.
Bonus up to $ 250.
Coupon Code: bf20
Deadline: 15th December
Adcash
With the official Christmas season, our friends at Adcash are offering a welcome bonus for all new advertisers!
🏆 Get a $ / € 50 bonus on your $ / € 200 deposit;
🏆🏆 Get a $ / € 125 bonus on your $ / € 500 deposit;
🏆🏆🏆 Get a $ 250 bonus on your $ 1000 deposit.
Log into Adcash and send an email to Bonus@adcash.com with the subject "Holiday Bonus" and provide your account ID.
Deadline: December 18th. For new advertisers only. Limited offers are available.
RichAds
RichAds is a self-service performance marketing network with over 4 billion ad impressions daily. As the next evolution of the hugely successful RichPush team, you can expect the same benefits in three leading ad formats.
This week only, receive a 12% bonus on your first deposit for ALL traffic types, including push, pop and native traffic.
Ready for more cherry picking? You can also get icon packs for all major industries, exclusive whitelists with the highest conversion rates, and custom themes designed by the RichAds team.
Trade now with the promo code BFMOBIDEA to claim your Black Friday deal.
Deadline: 13th December
TrafficStars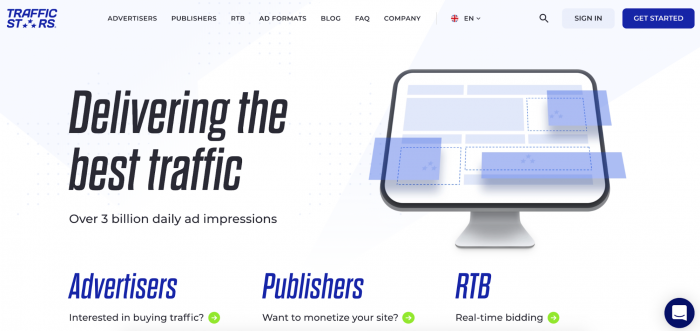 Get the best traffic for your offers and reach millions of users every day with TrafficStars. This powerful adult ad network offers a wide range of ad formats and is perfect for new and seasoned partners.
Get one 10% bonus with every deposit this black friday with the promo code TSMobideaBL10 Enjoy competent support, exclusive traffic sources and the latest technology for your next advertising campaign.
Coupon Code: TSMobideaBL10
Deadline: 2. December
VPN
NordVPN
NordVPN is one of the best VPN services in the world. With over 20 exclusive features that millions of users trust, this is the perfect way to protect your privacy online.
Get 68% off all NordVPN plans with this exclusive Black Friday offer – plus 3 months FREE.
This offer is great value for money and comes with a 30-day money-back guarantee. Secure your discounted online privacy now!
Deadline: 30th of November
Keywords:
Getting startedMobidea