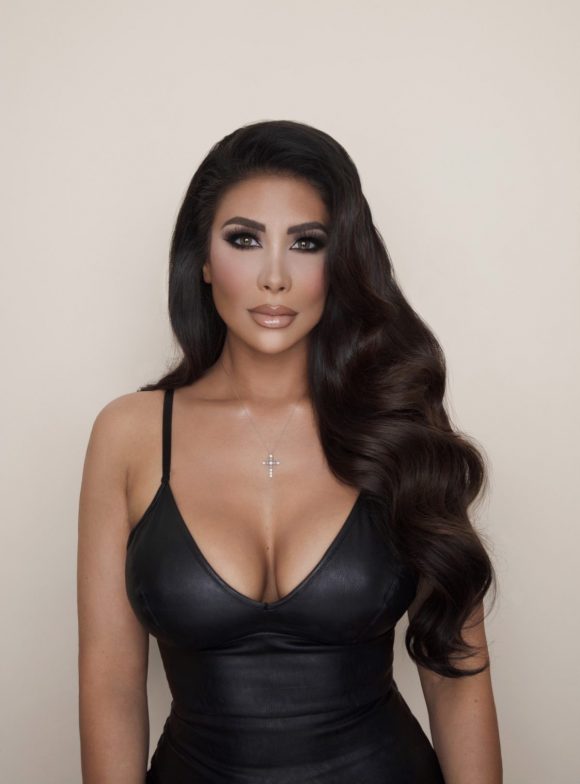 Lauren D & # 39; Amelio Ventre is one of the most sought-after makeup artists in the beauty industry. She has built the most flawless on-site beauty team in the New York area, targeting celebrities, bridal and movie clients. Lauren has taught thousands of aspiring makeup artists and developed an unparalleled approach to the art of makeup over the past 14 years of her career. Lauren recently celebrated her 30th birthday on November 26, 2020 and said, "The best is yet to come."
Lauren was diagnosed with dyslexia at the age of 7 and was placed in a special education classroom. In middle school she was bullied for her learning disabilities and informed by her reading teacher that she would not get very far due to the severity of her dyslexia. Though struggling with reading and writing, she excelled at math, arts, and sports.
As a child, Lauren always admired her mother's beauty and watched her put on makeup every morning. She found her passion for make-up in 7th grade after receiving make-up and brushes from her aunt. She mimicked her mother's routine and found the confidence to make friends in her new school district. When she was in 8th grade, her friends asked her to put on makeup for school dances and other events. At that time there was neither YouTube nor social media to find out about products, techniques or trends. Her parents bought her books from Bobbi Brown, Eve Pearl, and Kevin Akwan. She immersed herself in learning all about the art of makeup.
Growing up in a middle-class family, her parents taught the importance of hard work and commitment at a young age. She started her first job in the beauty industry at the age of 16 as an assistant in a local salon. When she entered her junior year at Kinnelon High School, she was offered the opportunity to attend a professional cosmetology college. Her parents hesitated because the beauty industry wasn't seen as a lucrative career at the time. They encouraged her to take part in collages so she could graduate and have a "real career." She attended Berkley College, majoring in interior design, but never let go of her passion for makeup. At the age of 18, she took a part-time position at MAC Cosmetics while still working in a salon and doing internships. She would follow her staff to pick up any tips and knowledge they had to offer. In retail, she could work on all races, skin types, and genders. It also taught her the importance of knowing the ingredients in products, sales, business, and talking to customers.
During her studies, Lauren also began working as a freelancer. She worked for various local magazines, photographers and boutiques. One day she was doing makeup for a fashion show for the Posh Boutique to raise funds for the Brain Tumor Foundation. It was at this point that she met Kathy and Victoria Wakile. At the time, Kathy was one of the main characters in The Real Housewives of New Jersey. They exchanged contact information at the fundraiser and started working together. Kathy introduced and developed close working relationships with Lauren Doloris Catania and Siggy Flicker of The Real Housewives, New Jersey, to become one of her key makeup artists for filming and events. At this time, Lauren was also put in touch with Renee Graziano from Mob Wives, who she then introduced to Karen and Karla.
After graduating from college, she began teaching as one of their principal teachers at the Artist Makeup Academy in Hoboken, New Jersey. Masses of eager students would sign up to take classes with her. Her first master class sold out quickly; It was supposed to raise money for a dear friend whose cousin was battling cancer. She called it "Contour Against Cancer". She was so busy with her freelance work that she had to leave school to keep up with her growing clientele.
When Lauren was 26 years old, unable to answer all of the customer queries, she began building her freelance team. She also began individual and small group makeup training. The number of individual and small group inquiries was overwhelming, and Lauren began teaching large master classes in rented venues. Every master class she's held is sold out and now 20 artists and stylists are working for her.
Lauren is kind and caring to everyone she comes in contact with and has built many flushing working relationships. One day in 2018, Spray Tan artist Armando contacted her to do makeup for one of his clients, Lauren Sorrentino. She is now Lauren and Mike Sorrentino's lead makeup artist, and was recommended to Jenni Farley (JWoww). Lauren made multiple appearances on episodes of The Real Housewives from New Jersey, Mob Wives and Jersey Shore. She can now send her team to these celebrities when she is not available.
Lauren met her husband Sal in 2017; They married in Napa Valley, California in 2019 and had their son in January 2020. Lauren had a rare disease called vasa previa during her pregnancy; She had to be hospitalized 2 months earlier and monitored for a month. During her time in the hospital, she decided to design a four-day online makeup class to host in March 2020. It was an in-depth look at product knowledge, business, and technology called The Art of Enhancement. It was their best-selling class to date, producing over $ 28,000. Her success led her husband to encourage her to start an online community for artists. Loved the idea, Lauren started The Art of Enhancement Facebook group where she hosts monthly online master classes, visiting educators, Q&A, and a sense of belonging to other artists! She is currently working on another online course that has been further developed and is expected to generate more than four times the sales of its class in March 2020. Lauren selflessly shares all of her secrets and skills learned throughout her career in hopes of helping others dream big and achieve their goals.
Lauren's biggest piece of advice is to always be kind and friendly – you never know who you might meet or where that might take you – and always to adapt to your surroundings. Never stop learning.
Meet Makeup Artist and Beauty Educator Lauren D'Amelio Ventre first appeared in Home Business Magazine.