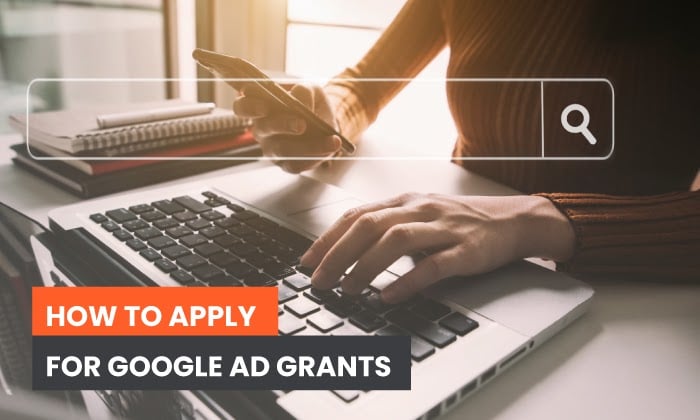 Most of us have a preferred nonprofit, and usually for good reason. They can provide vital resources for your community or they can just be something you care about. Or they played an important role in your own life or that of a family member.
Nonprofits need to be visible in today's digital age – but this takes time, money and expertise. This is where Google Ad Grants can help.
What are Google Ad Grants?
If you're a nonprofit, Google Ad Grants offer a set amount of Google advertising each month.
Why did Google launch its Ads Grants program and how do they work?
Google created the scholarship program to help nonprofits thrive. The ads work just like normal PPC ads. Nonprofits use them to drive targeted traffic to their websites just like any marketer or business owner would
Whether you notice it or not, you've likely seen some of these advertisements online. They'll show up under paid ads when you do a Google search.
However, unlike Google's PPC ads, there are some limitations. For example, Google Ad Grant ads are just text ads.
Google Ad Grants also have a strict eligibility criterion, and all nonprofits are required to complete an application process. We'll discuss the details of eligibility below.
Why should you apply for Google Ad Grants?
From well-known nonprofits like Habitat for Humanity and the American Cancer Society to smaller organizations like Elder Wisdom Circle and Travel to Impact, Google Ads Grants have many success stories.
For example, Habitat for Humanity achieved its marketing goals by combining Ad Grants and Paid Ads. This helped the organization increase the pickup.
The charity then sells the donated items to raise funds for their important support programs. And to provide inexpensive furniture and other goods to the local community.
Habitat for Humanity was able to measure its conversion rates using free tools like Google Analytics and Tag Manager. As a result, the charity saw a significant increase over the next six months.
The free ads have also helped Habit to Humanity attract more donors and use remarketing campaigns to motivate visitors and encourage them to donate again.
It's not just the free advertising budget that nonprofits can benefit from, however. Other benefits of Google Ad Grants are digital marketing resources.
Your digital marketing strategy is fundamental to online success. The same applies to non-profit organizations that want to create awareness and money in the digital age.
If you're new to digital marketing, Google is the place for you. There are a number of videos that will walk you through the various elements of a successful digital campaign such as:
Design your social media strategy
Start and create your campaign
Track your conversions
Your non-profit organization can also use the ads to:
Be noticed online and raise awareness of your organization.
Raise important funds
Attract new volunteers
Achieve the goals of individual campaigns
How Much Money Does Google Ad Grants Offer?
The Google Ads Grant gives nonprofits $ 10,000 worth of advertising each year.
Your monthly budget is $ 329 per day, and you can break this down across different campaigns.
When tracking donations, purchases, and fees, Google recommends using a strategy to maximize conversion bids. You can find more information on this on the Google support pages.
Your organization can decide how best to spend the money. You can also contact a Google Ad Grants certified expert to guide you through the application.
How to apply for Google Ad Grants
As with any other grant, an application must be completed. However, don't let the application stop you. It's nowhere near as complex as you might think.
In this next section, I'll break this down into the following steps:
Check the eligibility
Open a Google Account for Nonprofits
Activate your Google Grants account
Make sure you are eligible for Google Ad Grants
The Google Ads grants are only available to eligible nonprofits. This means that your organization:
Be in one of the 50 eligible countries. You can find a list of them online.
Sign up for Google Nonprofits.
Accept Google's certifications covering non-discrimination and donation receipt / use
Have a well-established website that complies with Google's Ad Grants standards, including HTTPS security
Complete the activation process
The next step is to set up a Google for Nonprofits account.
Sign up for a Google for Nonprofits account
To sign up for Google for Nonprofits:
1. Register with TechSoup. If you are unfamiliar with TechSoup, here are some things you need to know:
TechSoup is a not-for-profit organization that provides a variety of technical resources from well-known brands such as Microsoft and Intuit QuickBooks. Participation is free. All you have to do is fill out a short application.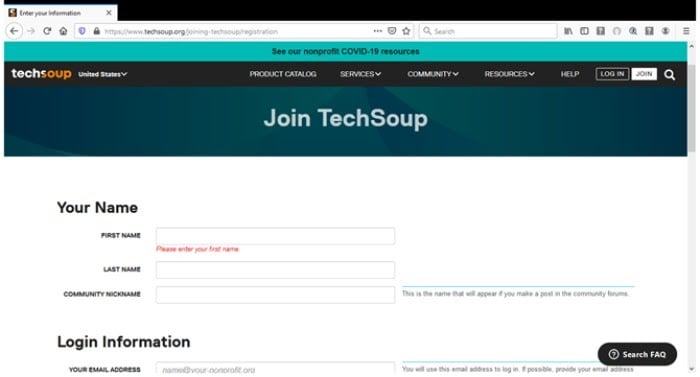 For nonprofits outside of the United States, you may need to register through one of Google's other partners. For example, in the UK you will be redirected to the Benefizdigitalexchange.org website.
Note: TechSoup may take up to 12 days to review.
2. Request a Google for Nonprofits account by clicking "Get Started".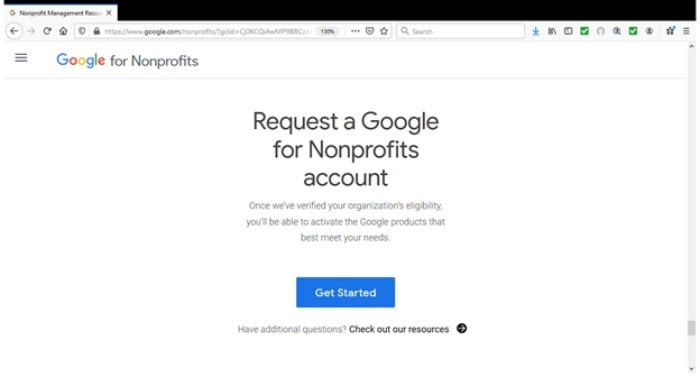 Then fill in the requested information and wait for the confirmation email from Google.
Activate and create your Google Ad Grants account
Follow the steps below to activate your Google Ad Grants account.
Fill out the participation form. You can find this by logging into your Google for Nonprofit Account and looking under the Google Ad Grants heading.
Select the "Activate" option.
You will then see an authorization form. Learn more about your business on Google and confirm your eligibility for a grant here.
When you have completed the form, return to your Google for Nonprofits account and click "Activate" again.
Then a check box should appear. Confirm that you have completed the authorization form and click "Activate".
That's it. Activation usually takes up to three working days.
Note: Remember that your Google for Nonprofits / Ad Grants accounts need the same username.
What can I do with my Google Ad Grants account?
After you've set up your Google Ads account, your nonprofit organization can start enjoying benefits such as starting your free advertising campaigns.
Setting up your first few ads can seem confusing. Let's go through.
Create a Google advertising campaign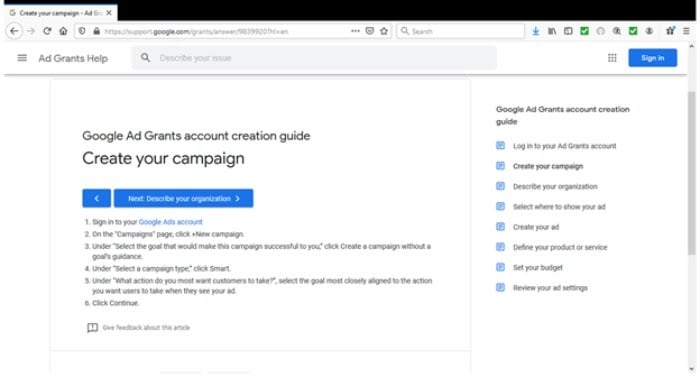 Follow the steps below to create your Google Ads Grant Marketing.
Sign in to your Google Ads account and go to the Campaigns page. Now you want to select the "New Campaign" option.
You will then see an option that says, "Choose the goal that you want this campaign to work for you." You are looking for the "Create campaign without route guidance" option.
Choose your campaign type. Look for the "smart" option.
Decide what action you want customers to take, and then click Next.
Describe your company. It's pretty easy. Just fill in your organization's details, nonprofit URL, and other information related to your nonprofit. Then press "Save".
Go to "Where are your customers? Page. This allows you to tailor your campaign to your local radius or specific areas. Choose the language and your relevant business category.
There should be a heading that says "What specific product or service would you like to promote in this ad?" Are displayed. Here you describe the services your nonprofits offer. Or you can include the automatically suggested keywords. You can find this under the heading "Suggested for you".
Click "Next" and choose your budget. Remember to set the daily maximum of $ 329.
Tap the "Next" button to go to the review phase. Here you can change your ads before clicking "Next" again.
Your campaign setup is complete!
Google Ad Grant Best Practices
Creating the campaign yourself is the best way to take your time and consider Google best practices. If you are unfamiliar with this part, keep in mind that there are certified professionals out there who can manage the advertising.
Here are some tips as well as some Google recommendations:
Differentiate your organization
What makes your organization different? This is how you stand out from the crowd and encourage engagement and donations. For example, your organization has:
Donate 100% of your profits?
Working with local partners and projects?
Do you offer evidence and updates on how your nonprofit is spending its funds?
Do you mark the good the donations do?
If you're struggling to find the unique selling proposition of your nonprofit, there is a useful article online on how to determine your nonprofit's USP. You will also learn more about a nonprofit company's approach to marketing.
Add a call to action
Perhaps the most important part of an online ad is the call to action. What should visitors do next? Think about your goals and what steps visitors need to take to meet your goals.
Choose your keywords carefully
First, think about the search terms and keywords you would use if you were looking for a nonprofit in your niche. Then use a keyword planner tool like Ubersuggest to do further keyword research. Use these terms in your ads.
Write ad groups and make sure they are relevant
Develop a group of ads for rotation and include your target keywords in each group. You also want to make sure that your ads are relevant to your target audience.
For example, you might want to target them to attract:
Volunteers
donate
Click through
Decide on your next actions
What do your visitors do when they visit your website? Do you donate? Register as a volunteer? Ask for information?
Use an analysis tool to determine this and design future campaigns based on relevant keywords.
Visit the support page for more tips on creating successful Google Ads.
Track the success of your Google ad
A recent survey found that 64% of marketers would choose Google Ads over SEO. This despite the positive return on investment (ROI) from SEO and the associated organic traffic.
Why?
According to the survey, Google Ads are better suited for:
conversion
Measurable data
Traffic volume
Effectiveness and scalability.
Google Ads has another big plus: they're easier to implement.
You can see how important these factors are to a marketer. But they're just as important to your nonprofit organization.
Also, by tracking and analyzing your nonprofit organization's data, you can:
Optimize conversions to improve your results
Customize your ads
Measure the success of individual campaigns and landing pages
Get real-time and audience insights
See where your donors are
There are times when you want to change your charitable ads. Just make sure your nonprofit is compliant with Google's guidelines.
For example, Google doesn't allow:
Individual keywords, although there are exceptions.
Keywords with a Quality Score of 1-2
Overly generic keywords
Nonprofits must also keep their click-through rate (CTR) at 5% each month (or risk their accounts being disabled) and have valid conversion tracking when using smart bids.
Note: It is worth mentioning that Google policies are subject to change. Ad Grant Compliance Guidelines are available online. Keep yourself updated on these. If you are not sure, check this out.
Conclusion
Google's Ad Grants program enables qualified nonprofits to gain visibility, attract more donations, and recruit employees and volunteers. Google Ad Grants is a great place to start for nonprofits that don't have a digital marketing strategy or don't have the budget to get started.
Aside from the generous $ 10,000 limit available to nonprofits, there are many other benefits to enrolling in Google Ad Grants, such as: B. access to technology tools, data tracking and professional services to grow your nonprofit organization.
While it may seem complicated, Ad Grants are free to set up. If you are unsure of the right strategy, you should hire a PPC consultant to guide you.
Has your nonprofit applied for a Google Ad Grant? Tell us about your experience or share some tips below.